Whisper Valley
Make Yourself at Home in the Future
The community of tomorrow is here today at Whisper Valley. Nestled along the thriving SH 130 corridor, you will find the model for the future of sustainable living. Whisper Valley is committed to groundbreaking energy efficiency enabled by leading-edge technology. At the same time, the extensive amenities here offer you and your family a healthier, more idyllic lifestyle.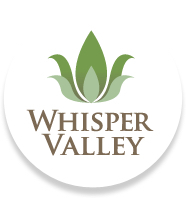 Our Builders
Builders That Are Coming Soon
Builder Map
Real Estate Agent Contact
(512) 720-7467

Email

Address:
9400 Petrichor Blvd. Whisper Valley, TX 78653
Advancing the Cause of Our Planet
Whisper Valley is focused on a profound, forward-thinking vision for the future. Innovative planning by a progressive development team, city planners, engineers and design specialists has created a blueprint for a truly advanced community. One that's committed to making our world a better place to live.
This 2,067-acre master-planned development encompasses creatively designed residential neighborhoods and business districts, set amongst 700 acres of beautiful parks, scenic trails, rolling hills, meandering streams and quiet meadows. Planned future neighborhood services, village-type restaurants, retail, office areas, two school campuses, an emergency services center and transportation center will make Whisper Valley a convenient place to live, work, shop and play.