Whisper Valley
Welcome To A New Kind Of Planned Community
There has never been any place quite like Whisper Valley in Austin. Located along the booming SH 130 corridor, it's the blueprint for a new kind of planned community -- one focused on a more complete lifestyle. Whisper Valley is an environmentally-sensitive development dedicated to energy efficiency and cutting-edge technology. Homes built by Pacesetter Homes and Avi Homes are affordably priced, from the low $200s.
Whisper Valley is a model for the future of sustainable living. From the ground up -- and even far below it -- everything has been thoughtfully planned to create the ideal community.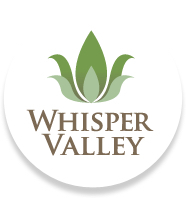 Real Estate Agent Contact
(512) 710-3799

Email

Address:
9400 Petrichor Blvd. Whisper Valley, TX 78653
Whisper Valley - A Blueprint for a Better Lifestyle
Innovative planning by a forward-thinking development team, city planners, engineers and specialists from many design disciplines has created the blueprint for this new kind of planned community. Whisper Valley is an environmentally-friendly, 2,000-acre master-planned development committed to sustainability, affordability and cutting-edge technology. Every home will come pre-wired with Google Fiber 1 GB ultra-high speed internet, BOSCH kitchen appliances and ultra-efficient geothermal heat pumps, a state-of-the-art Rehau thermal system, Nest smart home technology and much more. All of this in homes that are affordably priced!
Whisper Valley will encompass over 2,000 acres of creatively designed residential neighborhoods and business districts, nestled into 700 acres of beautiful parks, scenic trails, rolling hills, meandering streams, quiet meadows and pristine forests. Future neighborhood services, village-type restaurants, retail, office areas, two school campuses, an emergency services center and transportation center will make it a convenient place to live, work, shop and play. It's the community of tomorrow today. Quite simply, it joins the genius of Man and Nature like no other place.