Monticello Homes
Monticello Homes is an award-winning home builder evidenced by the numerous awards given by the Greater San Antonio Builders Association (GSABA), the Texas Association of Builders (TAB) and the National Association of Home Builders (NAHB). Throughout the years Monticello has been recognized for an outstanding product, marketing, and interior design. Monticello has also previously won the highly coveted President's Award at the annual Parade of Homes. Monticello is consistently recognized as one of the "Top Residential Builders" by the San Antonio Business Journal.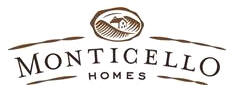 ---
Featured Flyers
Our Flyers
Our Communities
Community Map

- Active Community

- Coming Soon
Jennifer Schmidt
Online Sales Consultant
210-796-7972

Email

Address:
20734 Stone Oak Parkway, Suite 103 San Antonio, Texas 78258
The Monticello Homes Story
Inspired by his degree in architecture from The University of Texas and a desire to build a construction business that embraced a more innovative home building process, the Monticello Homes story began in 1994 when Wayne Moravits built his first custom home in San Antonio, Texas. Since inception, Monticello Homes has built its reputation on sound design principles, advanced products and specifications, current construction management techniques, and personal customer service. Monticello Homes has built nearly 1000 homes in the San Antonio metro area's best master-planned communities and on our customers own lots.
The history behind the Monticello name is rooted in our founder's love for the beautiful home that Thomas Jefferson designed and architected himself in Charlottesville, Virginia, as well as what the home stood for: "an essay in architecture." Literally standing for "little mountain" in Italian, the name Monticello itself emanates a higher standard of living. It is this same focus on blending design and engineering that has enabled Monticello Homes San Antonio to build its own legacy of unrivaled innovation, beauty and style.