Pacesetter Homes
In 2007 QUALICO started Pacesetter Homes in Austin Texas and in 2017 was recognized by Builder magazine as one of the top 10 fastest growing home building companies in the US. In 2018, Pacesetter Homes entered the Dallas market. As a leader in the home building industry, Pacesetter Homes welcomes many central Texans home each year. Award-winning designs, quality construction, and reliability serve as cornerstones for the Pacesetter brand. As a proud member of the QUALICO family, Pacesetter Homes also shares in a rich 65-year plus home building history as one of western Canada's most successful builders.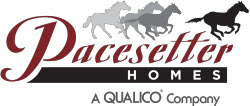 ---
---
Our Communities
Communities That Are Coming Soon
Community Map
Nianne Van Bibber
REALTOR Contact
512-323-6420

Email
Drawing upon our company strength, customer commitment, and proven history of doing the right thing, QUALICO develops communities that enrich lives and offers a full selection of housing options that deliver superior value.
We take the time to build things right.
Creating better homes and communities for life, work and play.
We hammer and hone our values into everything we make.
Not because industry standards demand it, but because we do.
Our employees. Our consultants. Our trades
All align to a single goal: do the right thing.
You won't find these values written on our wall.
You'll find them manifested in everything we make.
Pacesetter Homes offers several product lines that each focus on a specific stage in life.
The Portico Collection provides a series of affordable one and two story garden homes
The Courtyard Collection offers a unique carefree design for young married and active adults.
The Craftsman Collection offers informal, warm and inviting home for the growing and mature family
The Classic Collection delivers a series of affordable one and two story homes for families on an affordable budget.
The Waterloo Collection is a new Soft Contemporary look both in-side and out for the Austin market that will be informal, warm and inviting.
The Hill Country Collection offers wide, ranch style homes built on large Acreage Homesites in the picturesque Texas Hill Country with side entry garages, outdoor patios and much more.