Hill Country Artisan Homes
In 2007, Qualico started building homes in the Austin market under the Pacesetter Homes brand. In 2016 we started Hill Country Artisan Homes to reach the demands of the custom new home market. A vision of luxury, Hill Country Artisan Homes provides custom homes with functionality and comfort in a beautiful setting located throughout the Texas hill Country.

As a leader in the Austin new homes market, we welcome many central Texans home each year. Award-winning designs, quality construction and reliability serve as cornerstones of all the homes we build.

As a proud member of the QUALICO family, Hill Country Artisan Homes share in 70+ years of homebuilding history as one of western Canada's most successful builders. Hill Country Artisan Homes is now offering new homes on acreage homesites in the Preserve at La Ventana and Rio Ancho Ranch. Beautiful settings with magnificent views, rolling hills, abundant wildlife, and more in Driftwood and Liberty Hill.

Hill Country Artisan homes are designed for those who want stylish elegance within the beauty of the Texas hill country. Open spacious designs from several Texas architects; Hill Country Artisan offers flexible layouts rich in features, and customization to fit your stage in life.

Our Communities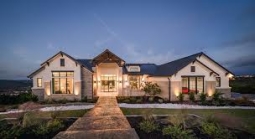 La Ventana
Northgate Ranch
North Haven
Community Map

- Active Community

- Coming Soon
Nianne
Agent Contact
512-640-2360

Email

Address:
14400 The Lakes Blvd. Building C, Suite 200 Pflugerville, TX 78660
We take the time to build things right.

Creating better homes and communities for life, work and play.

We hammer and hone our values into everything we make.

Not because industry standards demand it, but because we do.


Our employees. Our consultants. Our trades.
All align to a single goal – do the right thing. You won't find these values written on our wall.
You'll find them manifested in everything we make.