Greater Houston Builders Association
The Greater Houston Builders Association (GHBA) proudly represents all aspects of the residential building industry in the greater Houston area.

Chartered in 1941, GHBA is a trade organization whose members are involved in the development, homebuilding, and remodeling industry in 11 counties—Harris, Montgomery, Fort Bend, Brazoria, Waller, Liberty, Wharton, Galveston, Matagorda, Austin and Colorado counties.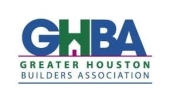 Address:
9511 W Sam Houston Pkwy N Houston, TX 77064
GHBA is the voice of Houston's residential construction and remodeling industry. Through advocacy and education, we aim to enhance the business climate for members, and to provide quality obtainable housing to the community. GHBA members are a consortium of Houston's top building industry professionals.