First America Homes
First America Homes, a private Houston based homebuilder and a Division of The Signorelli Company, was established in 2010. First America Homes builds beautiful new homes within a variety of communities in the Greater Houston Area. We believe in providing superior quality and service throughout the entire building process and incorporating accents normally found only in custom homes into every home we build. First America Homes builds new homes with a focus on quality and value while keeping in mind what's most important to our customers.

Although vision and creativity are skills we depend on, The First America Homes Team is what makes the difference. Comprised of knowledgeable industry experts, our team understands the families living in our homes are the most important ingredients for our success.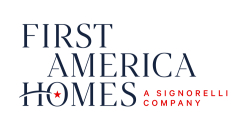 ---
Our Communities
Communities That Are Coming Soon
Community Map
REALTOR Contact

Email

Address:
1400 Woodloch Forest Drive Woodlands, TX 77380
THE SIGNORELLI CULTURE WAS BUILT, NOT BOUGHT

First America Homes was built on a strong Company Culture.
DYNAMIC, MULTI-FACETED ENVIRONMENT

Real estate is a high-energy, ever-changing business. With a portfolio of over 20 properties in prime Houston area markets and Oklahoma, we offer opportunities to find your niche in a lot of interesting places.
DIVERSITY AND INCLUSION
We work hard together in multi-disciplinary groups to accomplish visionary goals. Knowledge, talent and the ability to work well on a team are the qualities we look for and promote in our company.
COMMUNITY BUILDING
We don't just build homes and office buildings, we develop communities where people live, work, shop and play. We make our a mark in our communities by donating our time and resources, and we have a great time in the process.
EMPOWERMENT
At First America Homes, we appreciate and reward people who can take the ball and run with it. We like to offer our employees ownership of a project so they can experience a true sense of leadership and accomplishment.