Houston Association of REALTORS
HAR.com is the award-winning residential property search website that is the source of homes for sale and rentals in the state of Texas. HAR.com, operated by the Houston Association of REALTORS®, is the most successful consumer-facing REALTOR® association website in the country. It is the only local site that regularly ranks in the top 20 real estate sites in the country, according to Experian Marketing Services, and it was the number two real estate site in Texas in January 2014, behind only Zillow. Connecting Home Sellers, Buyers and Renters with REALTORS ®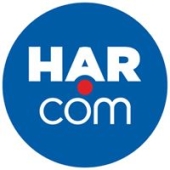 Rene Galvan
rene.galvan@har.com
(713) 629-1900


Address:
3693 Southwest Freeway Houston, TX 77027
The Houston Association of REALTORS® (HAR) is a more than 41,000 member organization of real estate professionals engaged in every aspect of the industry, including residential and commercial sales and leasing, appraisal, property management and counseling. It is the largest individual dues-paying membership trade association in Houston, and the second largest local association/board of Real Estate Agents in the United States.

HAR was founded in 1918. Its mission is to help its members achieve ongoing success.