HISTORYMAKER Homes
Since 1949, HISTORYMAKER Homes has been crafting tailor-fit dream homes that are as unique and distinguished as the people who proudly call our personalized houses their home. We understand that the luxury, convenience, and personality of your home must also be echoed by the individual community that it's a part of. Nothing adds to the charm and appeal of your home like the neighborhood around it and the location that it's in. That's why we offer a collection of 25 unique communities that showcase the full benefits of choosing History Maker Homes for the feature-filled style of living you'd expect from the leading homebuilder in the Dallas/Fort Worth area.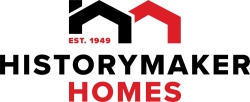 Our Communities
Communities That Are Coming Soon
Community Map

Address:
1038 Texan Trail, Grapevine, TX 76051
EXPERIENCE THE HISTORYMAKER DIFFERENCE
HISTORYMAKER Homes has built a quality reputation as a home builder by delivering more space, more square footage, more choice in amenities, and a more inclusive buying experience.
Every HISTORYMAKER Homes floor plan makes use of modern styles and trends to provide buyers with more livable space. Open-concept kitchens and living rooms, generous bedroom sizes, and large walk-in closets make our homes as spacious as they are functional.
From distinctive exterior options such as stone accents and porches, to flexible-use rooms, we provide buyers more choices from the start. Our knowledgeable experts walk homebuyers through our thousands of possibilities for their new home.